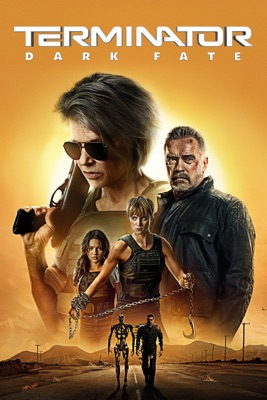 Télécharger
Film en streaming
Résumé:
Decades after Sarah Connor (Linda Hamilton) prevented Judgment Day, a lethal new Terminator is sent to eliminate the future leader of the resistance. In a fight to save mankind, battle-hardened Sarah Connor teams up with an unexpected ally (Arnold Schwarzenegger) and an enhanced super soldier to stop the deadliest Terminator yet. Humanity's fate hangs in the balance in this action-packed thrill ride from Tim Miller, the Director of Deadpool, and Producer James Cameron.
Les Commentaires
Avis de Adrien1982

Cette suite est tout bonnement excellente.

Avis de MowToo

Pourquoi les critiques assassines ? On ne refera jamais la nouveauté. Exploiter les franchises n'est jamais simple. Difficile de faire mieux que les 2 premiers tant la nouveauté avait fait l'effet d'une révolution en 1984 et 1991, néanmoins on prend plaisir à retrouver les acteurs du début , le acting des nouveaux est de bonne facture, la mise en scène est juste ce qu'il faut mise à la part la photo de nuit, on passe toutefois un moment sympa sans surprise sauf pour la scène de début qui surprend vraiment sur le plan numérique. Comme je le disais, cela n'est pas simple de relever le défi d'exploitations d'une telle franchise et on ne peut saluer l'équipe du film de cette audace.